A Slice of Heaven!
What is it?
For years before the restaurant opened, Jeff Varasano held dozens of pizza parties at his Buckhead home, with over 700 people attending. He really loves to give people an unforgetable experience. A "Slice of Heaven" is a personalized pizza tasting with Jeff - usually 8-12 flavors, often including items that are not on the regular menu. When in season, herbs are picked directly from the garden moments before baking.
How it Works:
A tasting can be scheduled any time outside of our busiest hours. Good times are Mon-Thu after 8, Fri after 8:30, Sat 2-5 or 8:30-9:30 and Sun 2-5 or 8-9. Shoot Jeff an email (
Jeff@Varasanos.com
) with your preferred time, and work with him directly on a schedule that works for everyone.
The Menu:
In your email please include any dietary restrictions, such as vegetarian, vegan, no pork, no dairy, etc. Most items can be made from ingredients readily available in the restaurant, however, some items shown below require special prep or shopping, so please give at least 48 hours notice when requesting those items.
Pricing:
Most "Slice of Heaven" custom pizzas are just $24-30, however a few, like the Shrimp, Mussels, Mushroom Truffle, and Clams are a bit more.
Party Size:
If your group is 5 or less we recommend sitting at the pizza bar and watching everything come together. This the best way to immerse yourself and get the whole experience. However we can accomodate groups anywhere in the restaurant.
A 'Quatro' Pizza - 4 Flavors in One
This Quatro features some of our most popular menu items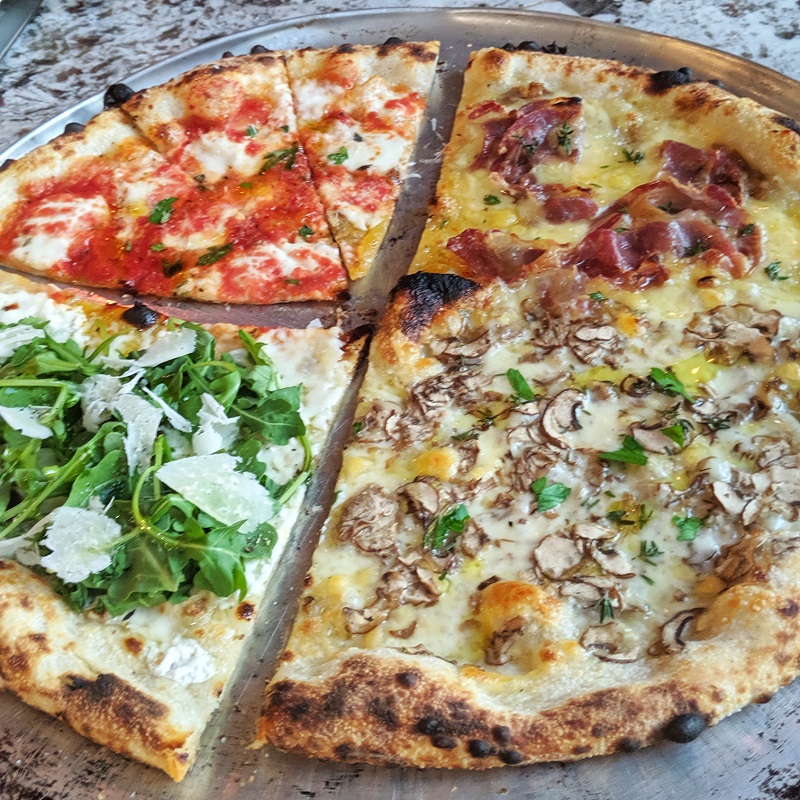 Where to Start: A Red 'Quatro' Pizza
This looks like a typical red pizza but actually this is 4 separate styles, showcasing different herbs, cheeses & meats, each prepared a little different compared to our normal menu. A pizza experience unto itself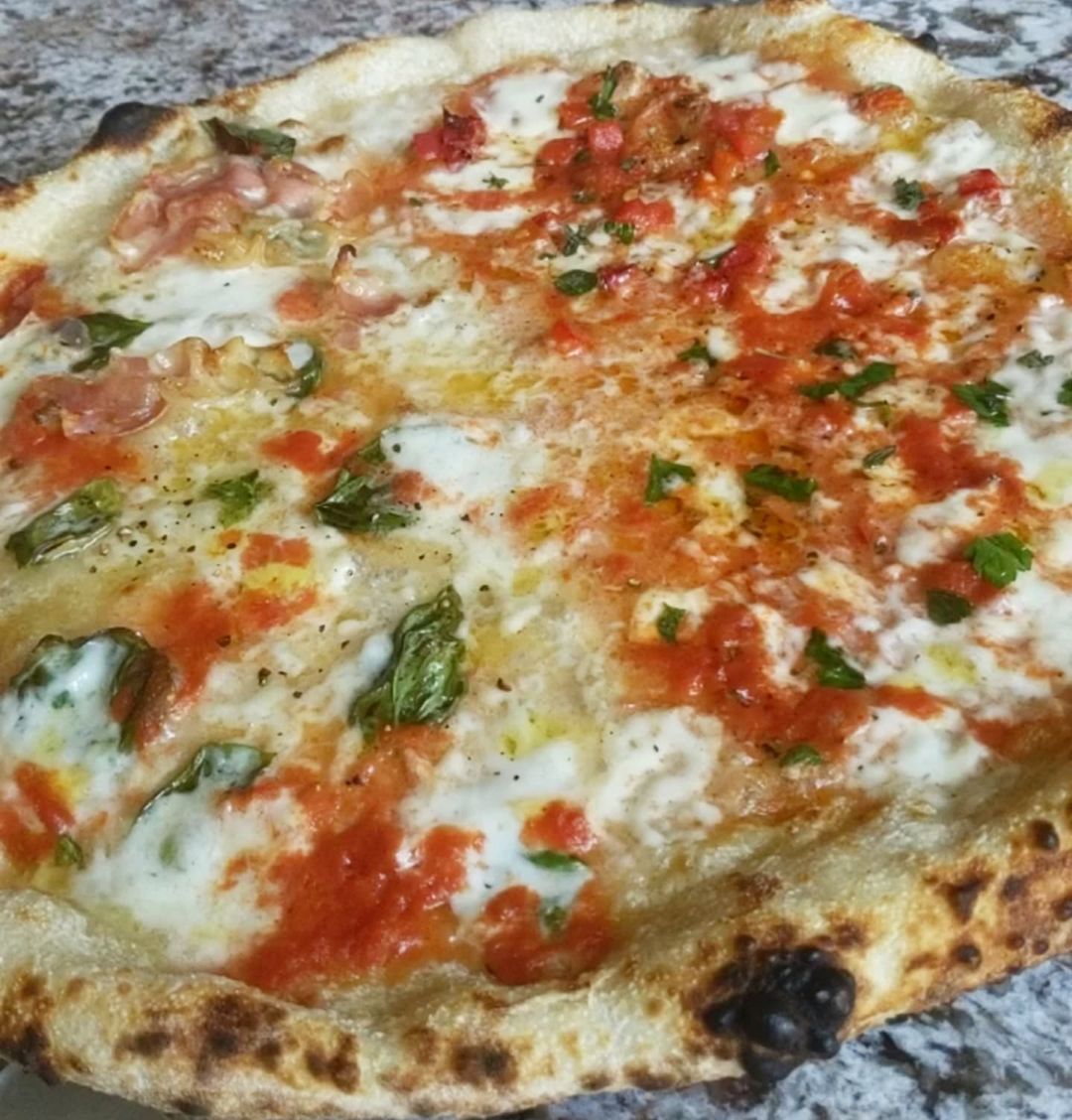 Another classic 'Quatro' Pizza...
although I think I squeezed in a 5th flavor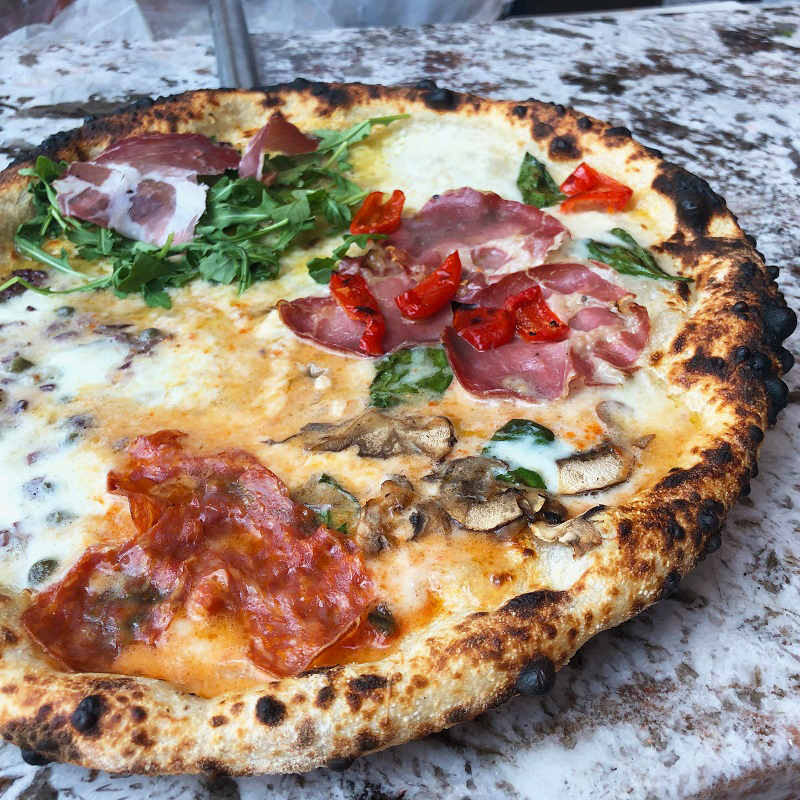 The Crispy Coppa Peppadew
An amazing pizza that's off menu but can be made anytime. Rather than baking in our normal 2 minutes, this is baked in 7 so it's got a very different texture. Savory, delicious and everything a pizza should be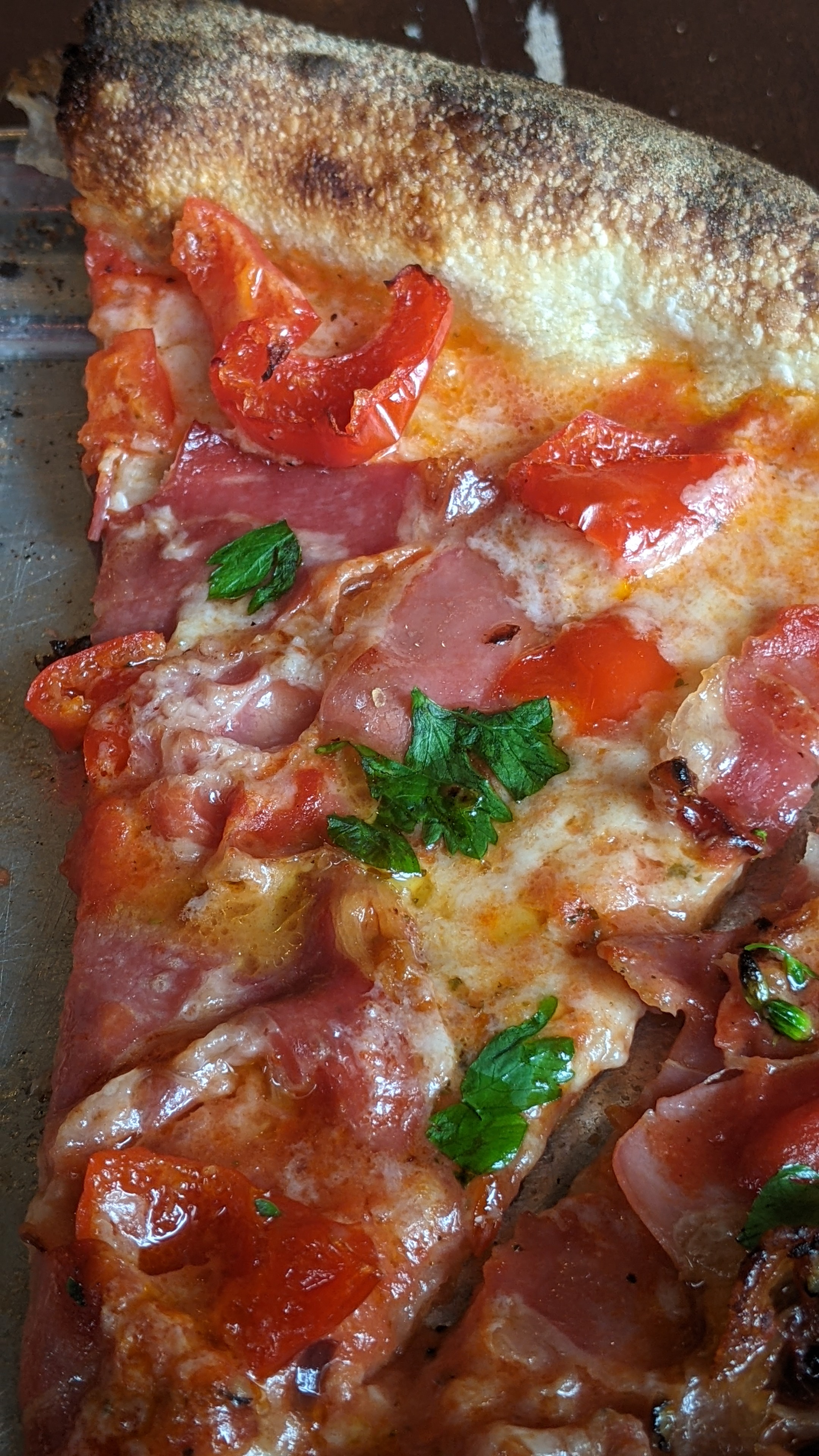 The Sicilian aka 'Grandma Style'
As good a square pizza as your likely to find. Requires 48 hour notice to prepare a different dough. Feeds many people. $45
A True Neapolitan
While our regular pizza is similar to Neapolitan Style, it's not quite what you'd get in Naples. Our pizzas normally bake in about 2 1/2 minutes, whereas a True Neapolitan is baked in UNDER a minute! We can only schedule this pizza at closing time, as we have to crank up the oven from 750F to 900F. Smokey, soft & airy - a near clone to Napoli's most famous Pizzeria, Da Michele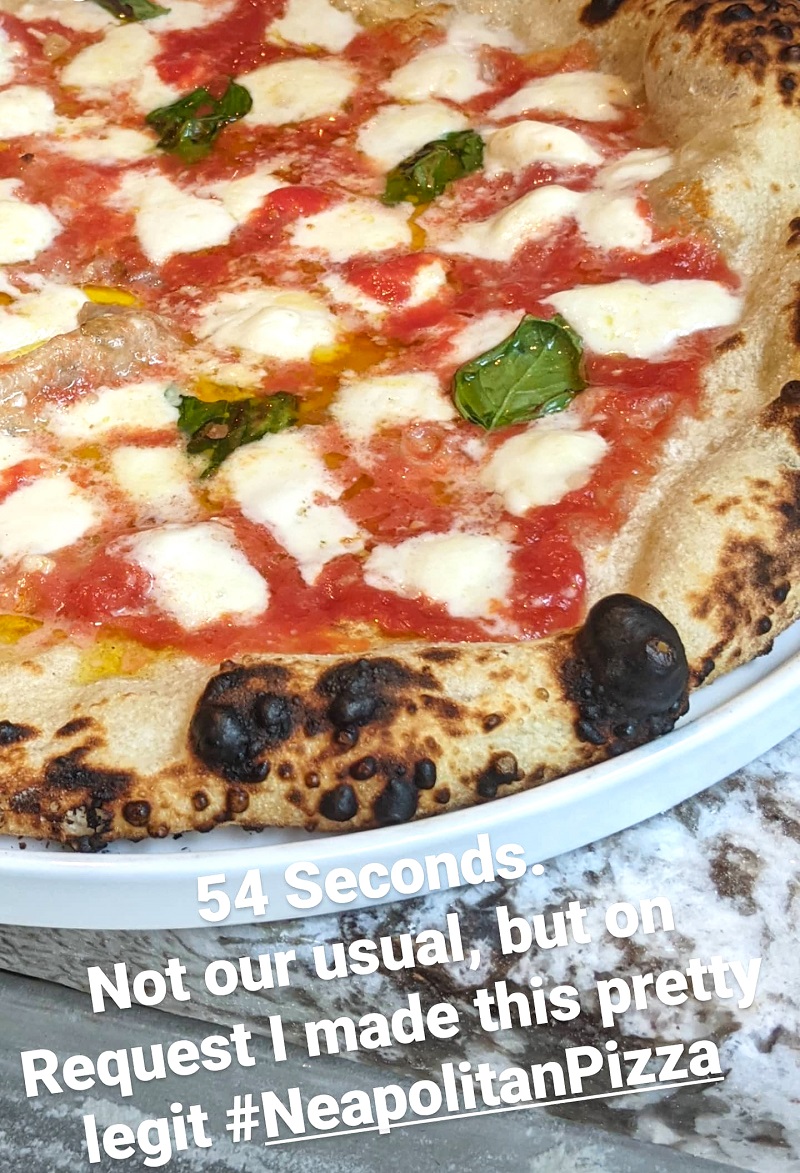 Shrimp Oreganata
Charred Bread Crumbs, Garlic, butter, Herbs and Lemon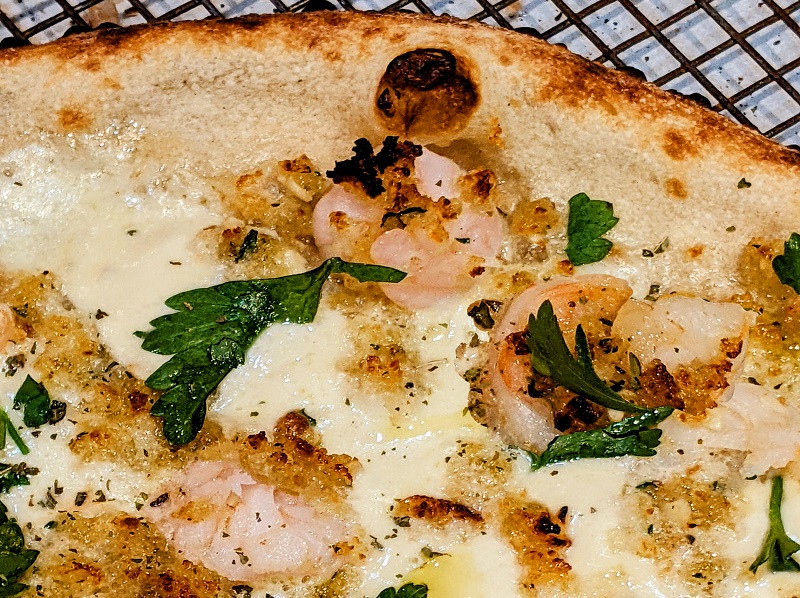 New Haven Clam
Our Clam was honored by Creative Loafing as among the 100 things to eat before you die. Ummm... you're not getting any younger, LOL, so hurry up already. Usually done as a white pizza but the red sauce version is just as good so you might as well try both. Give us 2-3 days notice on this one.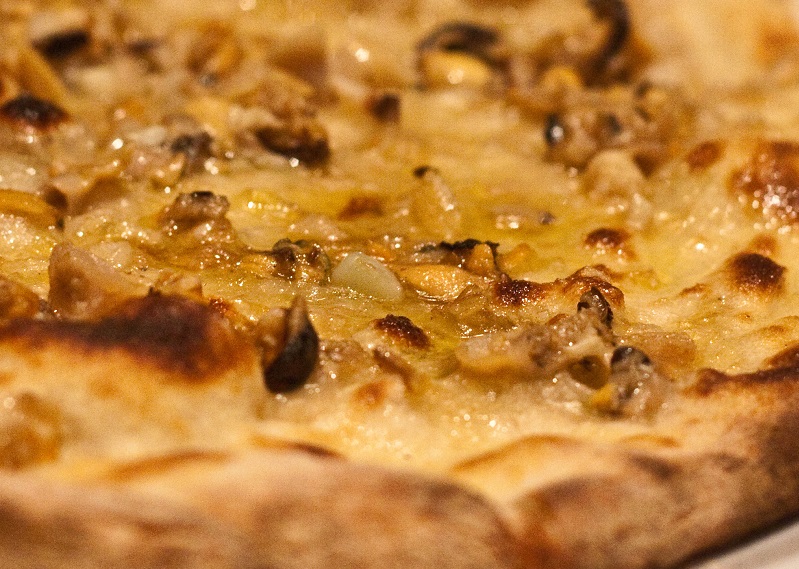 Mushroom Truffle
Shitake and Crimini Mushrooms sauteed in Madiera Wine over Tallegio cheese. Rosemary, Parmigiano Reggiano slices, and Truffle Oil. This one also requires a few days notice.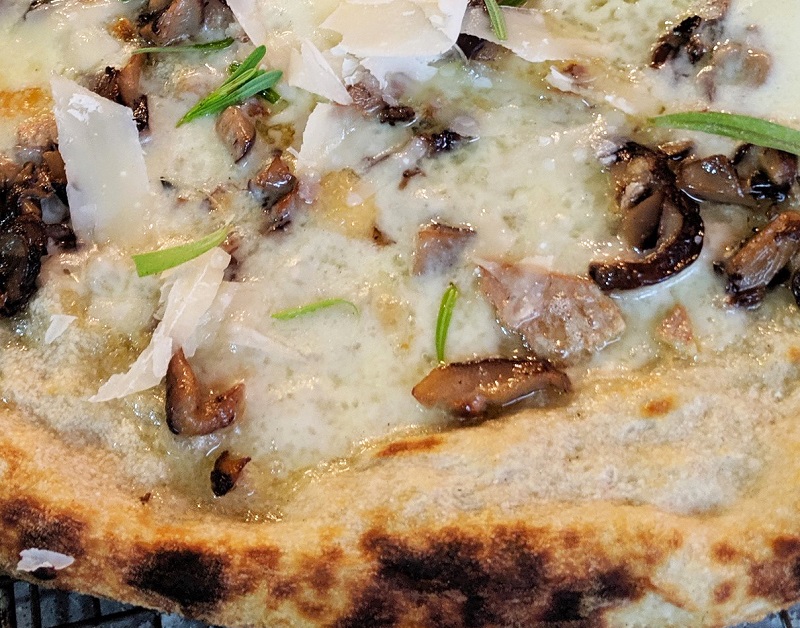 Vegan Portobello
Grilled Portobello, Watercress, Roasted Red Pepper, Red Onion. Requires a few days notice.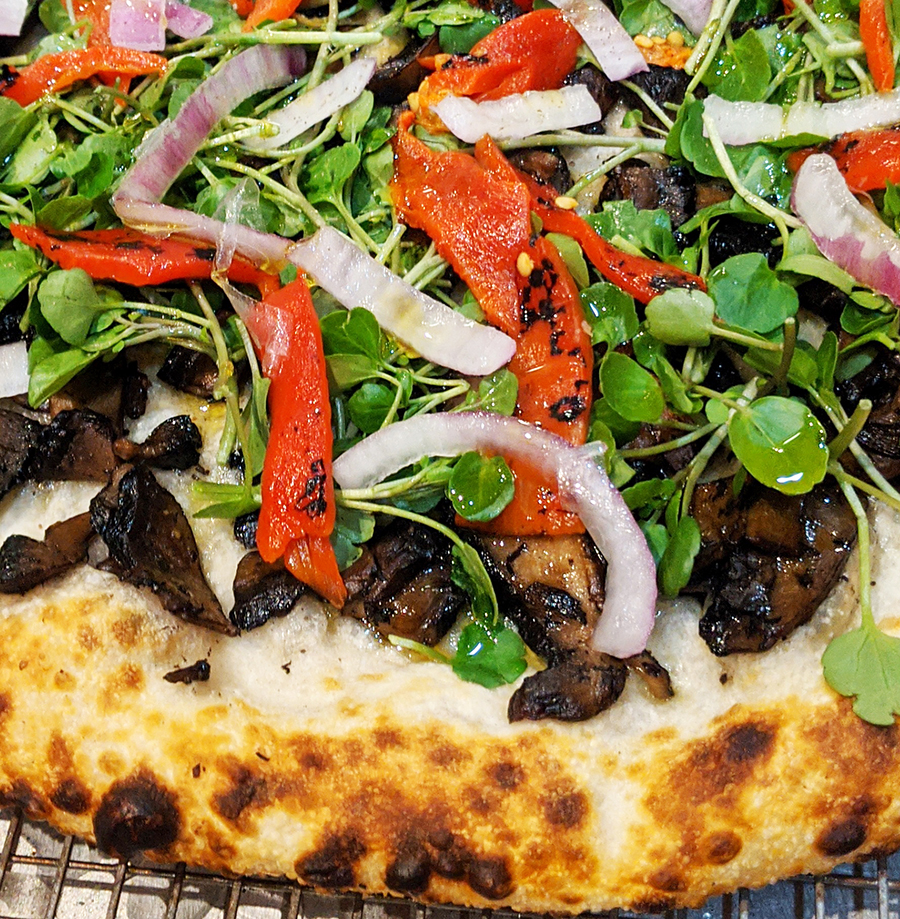 A classic 'Quatro' Pizza staring the Pancetta Garlic (right)
Pancetta Garlic is the most popular specialty pizza on our menu, but there's a way to hand make it that's kicked up a notch from the menu version... You have to try it.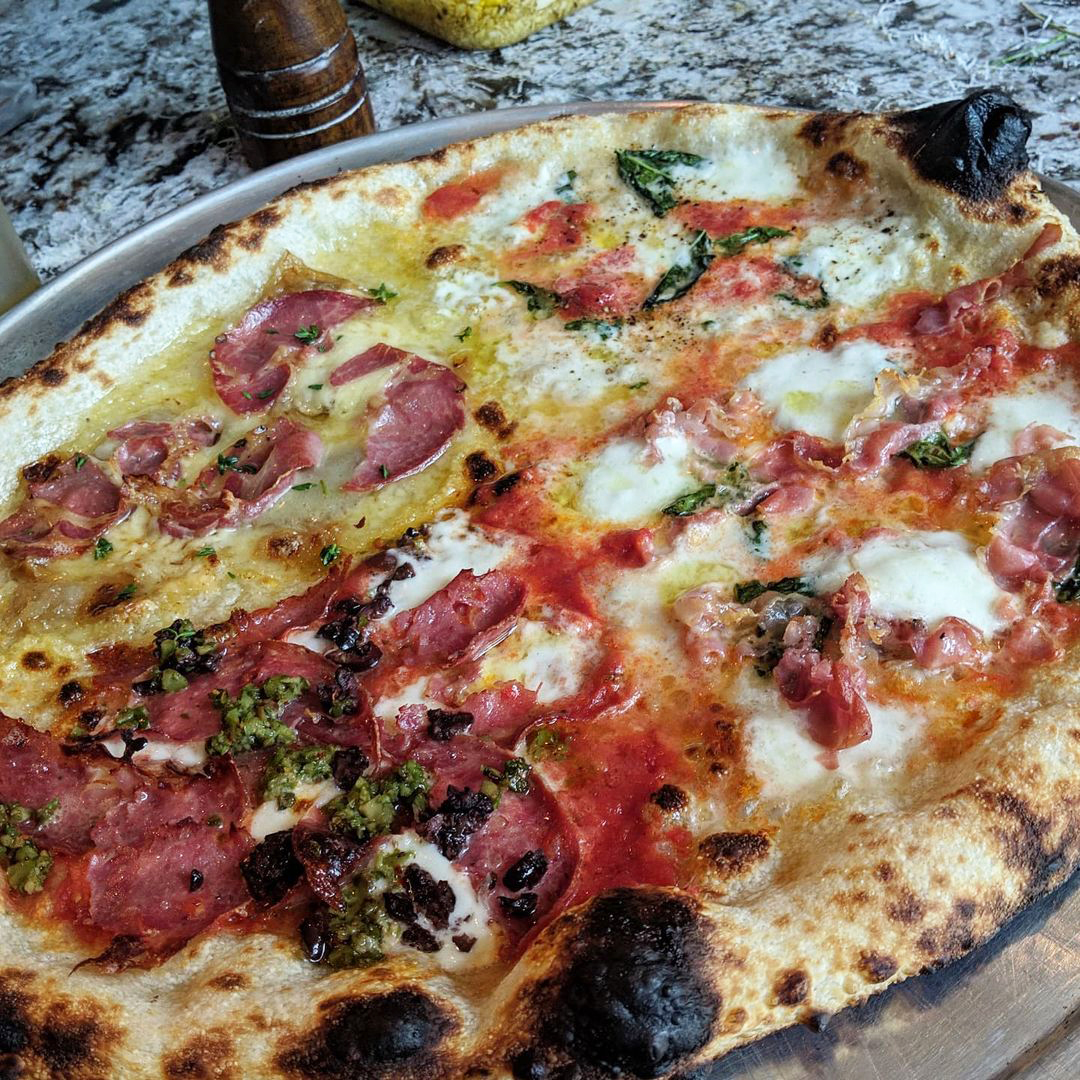 Fried Pizza
At a home party in 2008, with 25 guests waiting for pizza, the oven blew a fuse... Panic? Well, maybe a little. Then fry everything! Not to be missed.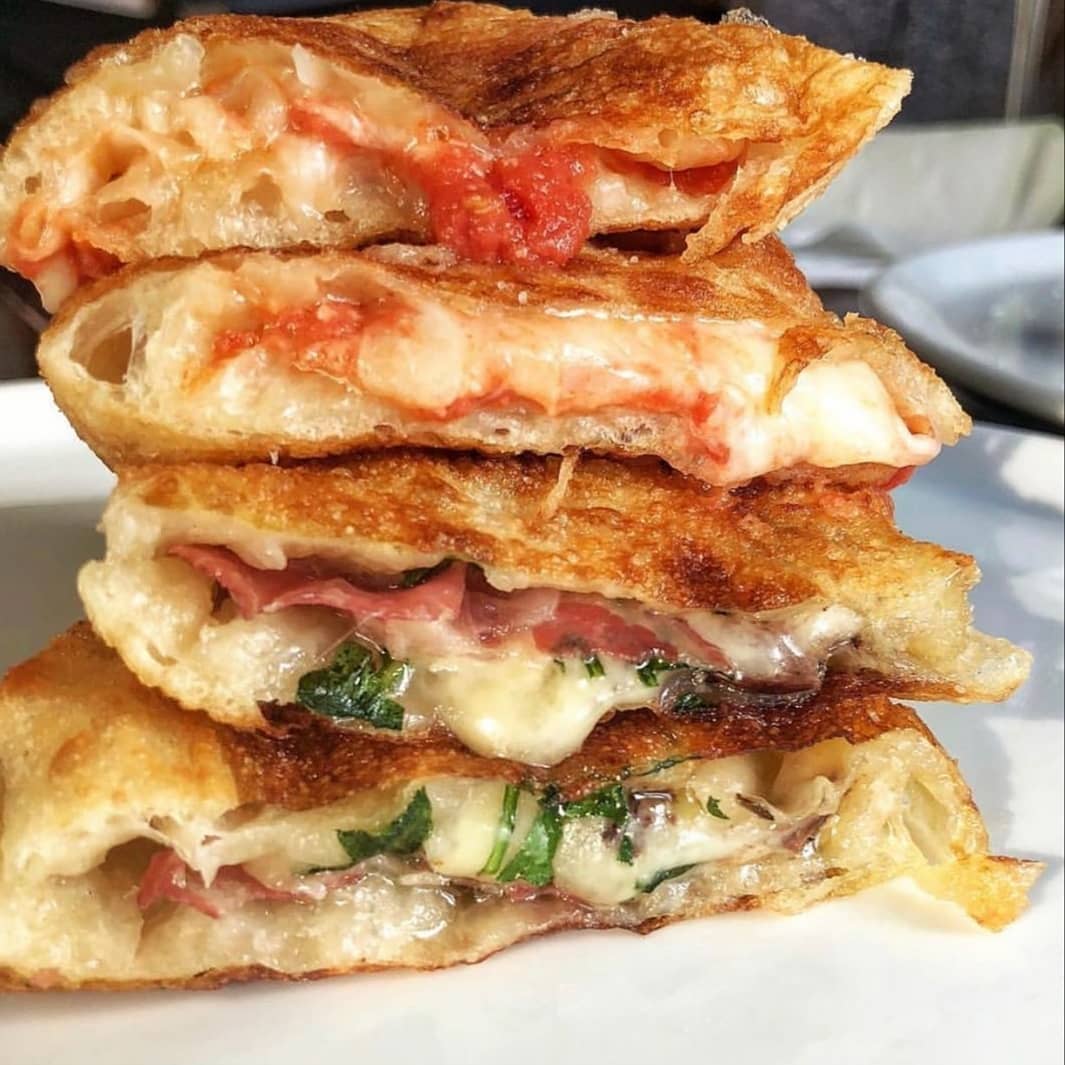 Potato Rosemary
Paper thin slices of Yukon Gold Potatoes over Mozzarella di Bufala.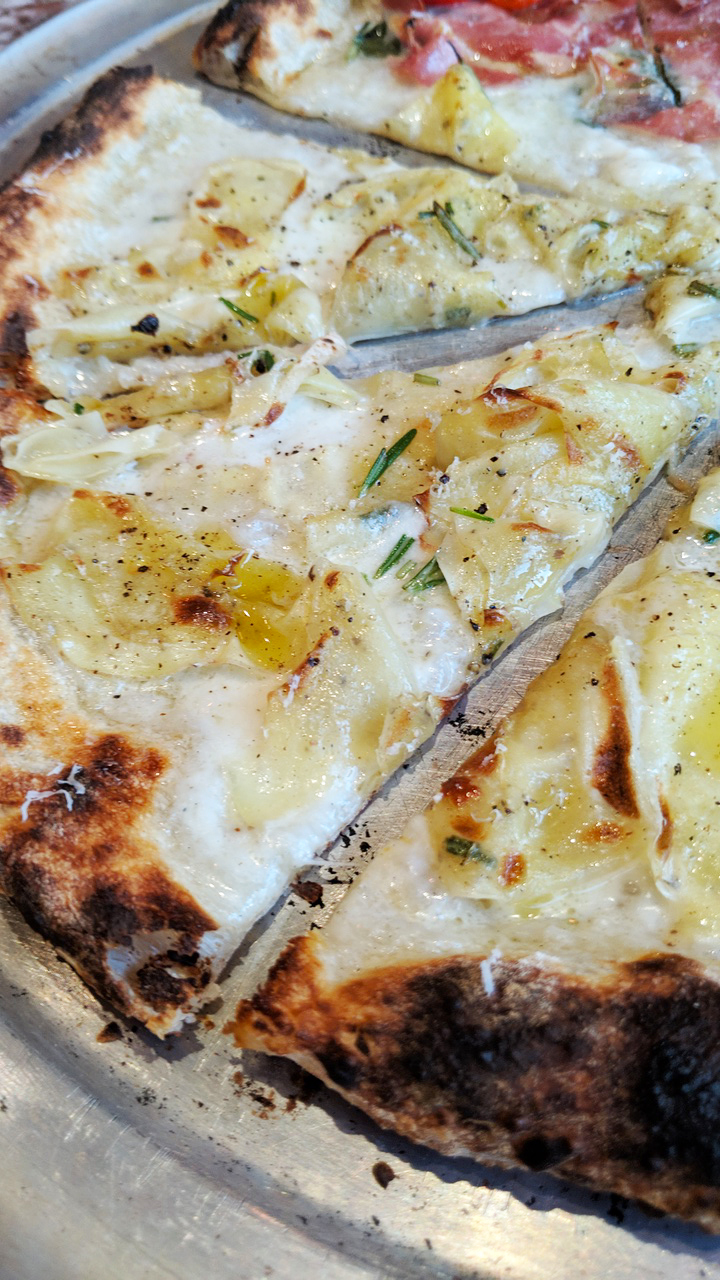 Dry Aged Filet Mignon Sandwich
Why would anyone take a $70 steak and make it into a sandwich? This is why: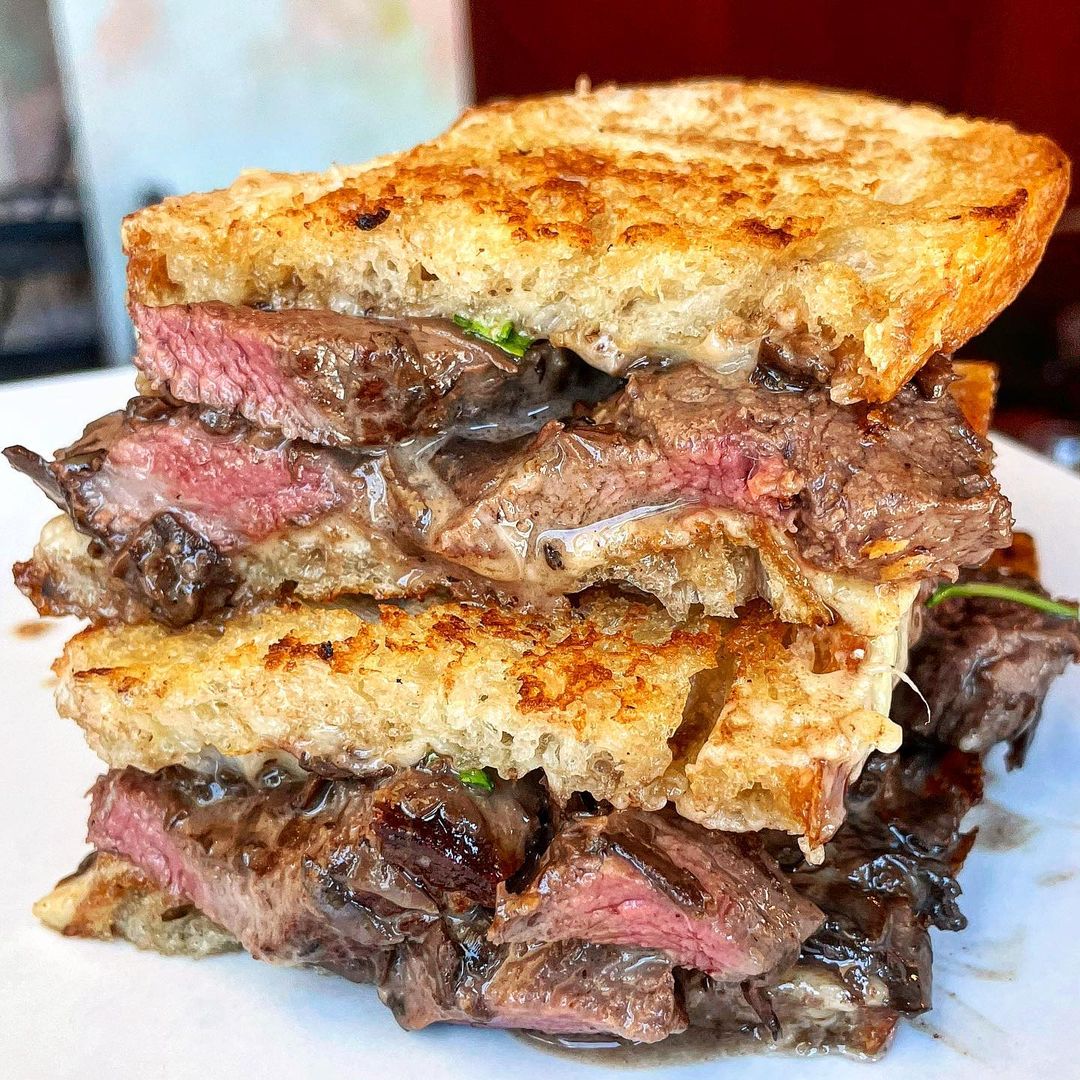 Many, Many More!
There are way too many to show. Slide over to our instagram page - Pretty much anything posted can be made. Crepes, donuts, cakes, pies, Sandwiches, Pastas. We love to cook (ok really we just love to eat, but we had to learn to cook it first)!


Join us for News & Special Offers: